Size & Pack
• Size: 8mm x 100mm
• Pack: 150 Pieces

Compatible Tools
• DF700 Domino Joining Machine

Joining precision with ease
• The Domino connection Systainer provides all parts of the corner and flat connector system – sufficient parts for 32 corner connectors and 16 flat connectors.
• The corner and flat connector system for the DOMINO XL DF 700 joining machine enables stable connections that can be separated again at a material thickness of 30 mm or higher.
• Extremely quick thanks to ease of use, no template or other accessories required
Scope of Delivery
• 1 x SYS 2 T-LOC Systainer
• 16 x Double Headed Bolts
• 32 x Expansion Bolts
• 64 x Transverse Anchors
• 4 mm Allen Key
• 64 x Half Shells
• 32 x Dowels D14 x 75 Beech
• 32 x Cover Caps Silver
• 32 x Cover Caps Light Brown
• 32 x Cover Caps Dark Brown
Corner and flat connectors for the DOMINO DF 700
Produce perfect timber connections more efficiently than ever before, by using the new corner and flat connectors for the DOMINO XL DF 700 joining machine.
BENEFITS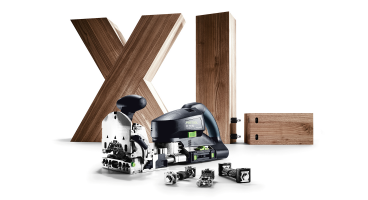 Create perfect connections
Create perfect connections in wood with the Domino corner and surface connectors, a 14 mm cutter and the Domino XL DF 700.
Extremely fast
Save time and effort. Using the Domino connector system, requires no time consuming measuring, scribing, no templates or additional accessories.
Extremely stable
Includes a tenon and clamping element to create a powerful join. Generous tensioning and tightening ranges. Very high extraction and loading forces.
Extremely flexible
Connection can be separated quickly if necessary. Ideal for framework and board joins in material of 30 mm and greater thickness.
Corner connectors
Extremely fast and stable with a high quality appearance. All that can be seen is the cover cap which is clipped over the oval Domino style mortise hole, resulting in a neat finish.
Surface connectors
The surface connectors create a generous tensioning range for reliable securing and a powerful, stable join.
Warranty Claims Just Tools will honour all warranties as offered by each manufacturer (as per above details) Please fill in your warranty card or register online if required on the purchase of any product. All warranty claims can be dealt with at your closest authorised repair agent or dealer. A copy of your proof of purchase (Tax Invoice) will be required for all warranty claims. If tools are returned to Just Tools for Warranty claims, the end user is responsible for the freight charge for return of the item, however, once the warranty repair is complete, the items will be dispatched at the cost of Just Tools.