FEATURES
• Makes it possible to created precisely guided plunge cuts, saw with minimal dust generation and make plunge cuts to a defined depth.
• Includes an adapter for fitting accessories without tools.
• Compatible with Festool 18v Cordless Vecturo Oscillator OSC
INCLUDES
• OSC-AH positioning aid
• OSC-TA depth stop
• OSC-AV dust extraction device
• OSC-A adapter
SPECIFICATIONS
• Plunge Depth : Max. 56.0 mm depth stop
• Plunge Depth : Max. 20.00 mm sliding shoe
• Depth Setting : Max. 42.00 mm with position guide
• Weight : 0.64 kg
BENEFITS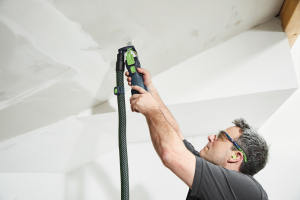 Dust extraction device

For sawing with minimal dust and having a clear view of the workpiece. Ideal for sawing above head height.
Positioning aid

For precisely guided plunge cuts. With integrated depth stop and extractor connector.
Depth stop

For precisely defined plunge cuts – to protect the saw blade.
Warranty Claims Just Tools will honour all warranties as offered by each manufacturer (as per above details) Please fill in your warranty card or register online if required on the purchase of any product. All warranty claims can be dealt with at your closest authorised repair agent or dealer. A copy of your proof of purchase (Tax Invoice) will be required for all warranty claims. If tools are returned to Just Tools for Warranty claims, the end user is responsible for the freight charge for return of the item, however, once the warranty repair is complete, the items will be dispatched at the cost of Just Tools.