FEATURES
• Perfect for large area applications
• Festool's RG 130 diamond grinder is perfect for larger surface area applications.
• The machine removes concrete, screed and coatings on hard sublayers with maximum efficiency because the speed is adapted to the diamond tools.
• The folding cover segment allows you to grind close to edges, while the wall stop and 0.5 mm disc set back make damage to walls and edges impossible.
• Vibration dampening on the auxiliary handle ensures less fatigue and the handle is adjustable with the ability to fold back completely.
• The patented extraction coil guarantees extremely efficient extraction when paired with a Festool dust extractor.
SPECIFICATIONS
• Motor Type : Brushed
• Power Source : Corded
• Power Consumption : 1,600 W
• No Load Speed : 3,000 rpm - 7,700 rpm
• Power Lead Type : Fixed Lead
• Tool Diameter : 130 mm
• Bit Holder : D25 / M14
• Dust Extraction Connection Diameter : 36 mm
• Tool Weight : 3.8 kg
APPLICATIONS
• DIA HARD - old concrete and epoxy resin
• DIA ABRASIVE - screed, green concrete, lime sand
• DIA STONE - very hard materials and hard concrete
• DIA THERMO - thermoelastic materials on concrete
• DIA UNI - paint, adhesive on wooden flooring
INCLUDES
• RG 130 E 130 mm Diamond Grinder
• Guide Base
• Clamping Flange Set
• Pin Type Face Spanner
• SYS 5 T-LOC Systainer
• Tool Manual
* Please Note: Diamond Wheel not included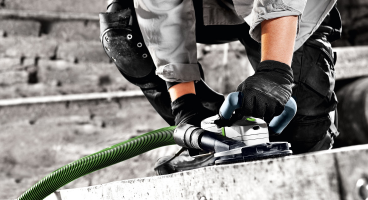 Intelligent control


The digital electronics provide ideal protective control. Smooth start up guarantees a gentle increase in speed, and continuous temperature monitoring protects against overload damage.
Work up to the edge


The folding cover segment which can be removed without any tools to allow work right into edges and corners.
Comfortable handling
The auxiliary handle with vibration damping reduces vibrations for fatigue free work.
The handle position can be adapted tool free or folded back completely to reach under pipes and in tight areas.
Leak tight
Uneven undercoats can cause leaks between the guard and material.


The RG 130 adapts automatically to surfaces reacting smoothly to changes in segment height, ensuring suction performance is excellent.
Efficient renovation


Festool's RenoFix range is designed to quickly and thoroughly overcome any material removal task, eliminating the need for hard manual work with chisels, rotary hammers and angle grinders.
Put your health first


Pair your diamond grinder with a Festool dust extractor to achieve almost entirely dust free results and save on clean up time.
Warranty Claims Just Tools will honour all warranties as offered by each manufacturer (as per above details) Please fill in your warranty card or register online if required on the purchase of any product. All warranty claims can be dealt with at your closest authorised repair agent or dealer. A copy of your proof of purchase (Tax Invoice) will be required for all warranty claims. If tools are returned to Just Tools for Warranty claims, the end user is responsible for the freight charge for return of the item, however, once the warranty repair is complete, the items will be dispatched at the cost of Just Tools.